Recently, as for the digital image, it became a very familiar thing due to the improvement of the ability of the computer, the diffusion of the Internet, the digital camera, video, and so on. Moreover, the application of 3D CG (Computer Graphics) increases in a movie and a game, the field such as design, simulation. The importance of Image processing and the 3D CG technology can be thought to increase more and more from now on.
In our Lab, we do not only pursues the technologic improvement of image processing, 3D CG, but also try to build up better relations between human and computer by using these technology.
Invited Researcher
Tomoyuki Yamaguchi

Research Associate
Takanobu Miwa

PhD Students
Noriko Yokoyama
Graduate Student

Undergraduate Student
Manabu Daihara


Interactive Four-dimensional Space Visualization via Principal vanishing Points Operation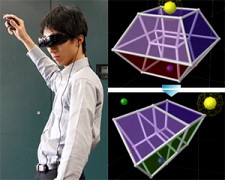 Since the physical world is three-dimensional, it is difficult for us to envision four-dimensional space. The purpose of this research is to develop an interactive environment which enables us to experience four-dimensional space. We have developed the novel interactive system that utilize principal vanishing points as an interface to control the 4-D eye-point and the 4-D viewing direction. The proposed system enables us to intuitively explore the 4-D space.

Four-dimensional Maze Exploration Using 4-D Fly-through Experience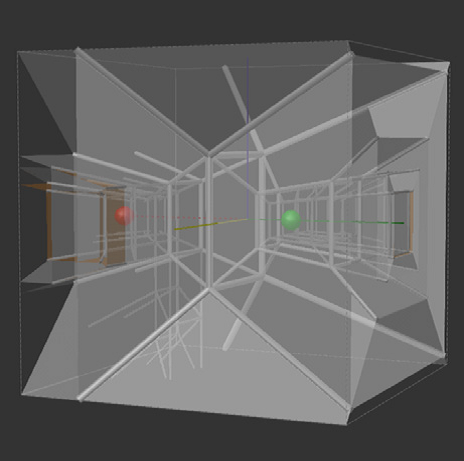 We conducted the user test to verify whether it is possible for people to understand the four-dimensional spatial structure. Subjects explored the 4-D maze, which consisted of a number of hypercubes, by turning the 4-D viewing direction via the principal vanishing points operation. The result showed that the principal vanishing points helped the subjects to learn the spatial geometry of the 4-D maze.

Image generation using similar image retrieval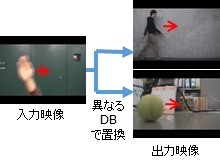 We are studying about the new video production technique using an image database and similar image retrieval. Focusing on the similarity of movement characteristics in the image, we replace input video for each frame with the database image. We propose this method of making a new video corresponding to the database.